2006 | OriginalPaper | Buchkapitel
Stability of Elastic and Viscoelastic Systems Under Stochastic Non-Gaussian Excitation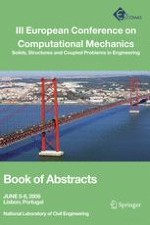 Erstes Kapitel lesen
Autor: Vadim D. Potapov
Verlag: Springer Netherlands
Stability problems of elastic and viscoelastic systems under the action of random loads, first of all of columns, subjected to the longitudinal force, which is a stochastic stationary process, were considered by many authors. A sufficiently thorough survey of these works is contained in the monograph [
1
]. The greatest number of results were obtained for that case if the stationary process is proposed as a Gaussian white noise.
If parametric forces are arbitrary random stationary processes, then the solution of the stability problem becomes significantly more complicated. In such a case mainly sufficient conditions of the almost sure stability were obtained. It should be underlined that the estimation of stability boundaries, which are obtained with help of these criterions, are rather rough.
In the present work an effective method for the investigation of the stability of elastic and viscoelastic systems under parametric excitation is suggested. Parametric forces are assumed in the form of stationary non-Gaussian processes.
The proposed method is based on the simulation of random processes, on the numerical solution of differential equations, describing the perturbed motion of the considered system, and on the calculation of top Lyapunov exponents.
The considered method makes it possible to estimate the almost sure stability and the stability with respect to statistical moments of the different order. Since the closed system of equations for moments of unknowns
y
(
t
)in the case of filtered noise could not be obtained, the method of statistical data processing is applied. The estimation of moments
y
P
j
for the instant
t
n
can be obtained as a result of statistical average of values
y
pj
derived from the solution of equations, describing the behavior of the considered system, for the enough large number of realizations. Using the procedure, suggested in the work [
1
], the estimation of the top Lyapunov exponent can be obtained.
Results, obtained for Gaussian and non-Gaussian processes, are compared in the case of the almost stability, stability in the mean and in the mean-square. It is important to underline, that results, found for filtered processes, are principally differ from results, corresponding to stochastic processes in the form of Gaussian white noises.