Erschienen in: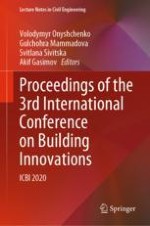 2022 | OriginalPaper | Buchkapitel
Stability of Thin-Walled Steel Elements of Composite Steel and Concrete Structures
Abstract
This paper investigates the behavior of new type of steel and concrete composite structures. With a view of a more effective use of CFS in modern construction (increasing the carrying capacity while reducing the thermal conductivity) the authors propose to fill the open cavities of thin-walled steel structures with light insulating concrete to create ultralight steel and concrete composite elements. The paper presents the results of a theoretical analysis of the local stability of thin-walled steel elements supported by lightweight concrete. The study of the influence of structural parameters on the local stability of steel elements of reinforced concrete structures. The comparison of experimental results with the results of calculations is performed in accordance with the theory of elasticity and the proposed method.