01.10.2011 | Research Paper | Ausgabe 10/2011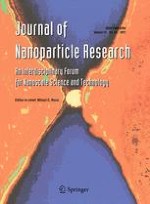 Stable and pH-responsive core–shell nanoparticles based on HEC and PMAA networks via template copolymerization
Zeitschrift:
Autoren:

Y. Zhang, Q. Jin, Y. Chen, J. Zhao
Abstract
Taking advantage of the specific hydrogen bonding interactions, stable and pH-responsive core–shell nanoparticles based on hydroxyethyl cellulose (HEC) and polymethacrylic acid (PMAA) networks, with a 〈
D
h
〉 size ranging from 190 to 250 nm, can be efficiently prepared via facile one-step co-polymerization of methacrylic acid (MAA) and
N
,
N
′-methylenebisacrylamide (MBA) on HEC template in water. Using dynamic light scattering, electrophoretic light scattering, fluorescence spectrometry, thermo-gravimetric analysis, TEM, and AFM observations, the influence of crosslinker MBA as well as the reaction parameters were studied. The results show that after the introduction of crosslinker MBA, the nanoparticles became less compact; their size exhibited a smaller pH sensitivity, and their stability against pH value was improved greatly. Furthermore, the size, structure, and pH response of the nanoparticles can be adjusted via varying the reaction parameters: nanoparticles of smaller size, more compact structure, and higher swelling capacity were produced as pH value of the reaction medium increased or the HEC/MAA ratio decreased; while nanoparticles of smaller size, less compact structure and smaller swelling capacity were produced as the total feeding concentration increased.