01.02.2011 | Original Contribution | Ausgabe 4/2011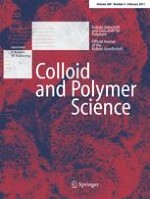 Stable titanium dioxide grafted with poly [
N

-(

p

-vinyl benzyl) phthalimide] composite particles in suspension for electrophoretic displays
Zeitschrift:
Autoren:

Runying Dai, Gang Wu, Hongzheng Chen
Abstract
The performance of electrophoretic displays is strongly dependent on the stability of the electrophoretic suspension in the device. In this manuscript, to obtain the stable electrophoretic suspension, the titanium dioxide grafted with poly [
N
-(
p
-vinyl benzyl) phthalimide] (TiO
2
-g-PVBP) composite particles were prepared via radical polymerization. The obtained TiO
2
-g-PVBP composite particles were fully characterized. The results showed that PVBP was grafted onto TiO
2
surface by chemical bonding. The composite particles with the effective diameter of 300 nm can monodisperse stably in tetrachloroethylene due to the long-chain polymer PVBP, which can provide each TiO
2
particle with steric stabilization. The zeta potential and electrophoretic mobility of the composite particles were 30.3 mV and 4.69 × 10
−6
cm
2
/Vs, respectively, without charge control agent. With the stable electrophoretic suspension containing the prepared composite particles, the matrix electrophoretic display prototype with good performance operated at 9 V was demonstrated.