2013 | OriginalPaper | Buchkapitel
3. Staphylococcal Virulence Factors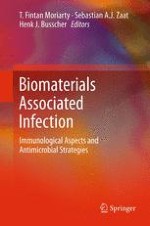 Erstes Kapitel lesen
Autoren: Christine Heilmann, Friedrich Götz
Verlag: Springer New York
Abstract
The adherence of staphylococci to the unmodified or host factor-coated surface of a medical device is the first critical event in the establishment of a device-associated infection with these serious pathogens.
Staphylococcus aureus
in particular harbors a variety of proteinaceous and non-proteinaceous adhesins that mediate attachment to a multitude of host factors, such as extracellular matrix and plasma proteins and platelets, or intercellular adhesins, which are essential for biofilm accumulation. Proteinaceous adhesins may be classified in covalently surface-anchored proteins of the microbial surface components recognizing adhesive matrix molecules family or in proteins that are surface-associated by different means, such as ionic or hydrophobic interactions. Non-covalently surface-associated proteins include the autolysin/adhesins, proteins of the secretable expanded repertoire adhesive molecules family, or membrane-spanning proteins. Non-proteinaceous adhesins include the polysaccharide intercellular adhesin as well as lipoteichoic and wall teichoic acids. The features and functions of surface and surface-associated protein adhesins as well as of non-proteinaceous adhesins are discussed.