01.04.2013 | Ausgabe 2/2013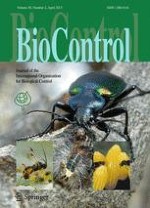 Starvation and herbivore-induced plant volatiles affect the color preferences of parasitic wasps
Zeitschrift:
Autoren:

Masayoshi Uefune, Soichi Kugimiya, Takeshi Shimoda, Junji Takabayashi
Wichtige Hinweise
Handling Editor: Stefano Colazza
Abstract
Using light-emitting diode spotlights, we examined the responses of
Cotesia vestalis
, a parasitoid of diamondback moth (DBM),
Plutella xylostella
larvae, with different hunger level to different chromatic cues. Naïve satiated female wasps showed no significant preference for either green, yellow, orange, or red spotlighted areas over a control area with background fluorescent light. When starved for 2 h, female wasps preferred yellow and green light over the control area, but not orange or red light. We also tested the effects of DBM-larvae-induced cabbage-plant volatiles, which attract female wasps, on wasp responses to green versus yellow light. In control experiments with no plant volatiles, starved wasps showed no color preference. However, when synthetic volatiles were present, the wasps preferred green over yellow light. We concluded that both hunger level and herbivore-induced plant volatiles were important factors affecting the response of parasitic wasps to light of different color.