2016 | OriginalPaper | Buchkapitel
4. State of the Art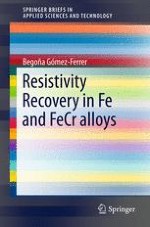 Erstes Kapitel lesen
Autor: Begoña Gómez-Ferrer
Abstract
As a starting point in this chapter, there is the fact that the picture which is being established to explain the defect kinetics in Fe–Cr concentrated alloys is based on the model accepted for pure Fe, where agreement has been found between RR and PA validation experiments [
1
,
2
] and combination of ab initio and kMC simulation codes [
3
]. Although this is a starting point, differences clearly appear when Cr is introduced in the iron lattice. Complementary studies, both experimental [
4
] and theoretical [
5
], have been made evaluating the initial distribution of the damage in pure Fe defect kinetics, revealing new stages. Concurrently the theoretical and experimental study on the effects on adding Cr impurities to pure Fe have helped to reveal new migration energy values, and interaction processes between defects [
6
–
8
]. It has also been revealed that the presence of other impurities produce strong modifications of the RR curves by interaction of impurities with defects [
9
–
11
]. All these studies have contributed to build the Fe–Cr picture. In addition, few isolated experimental works have been performed on concentrated Fe–Cr alloys [
12
–
15
]. Scale limitations of computational codes make not possible up to date to simulate high damaged concentrated alloys. Nevertheless good approaches are being achieved [
16
]. It is important to notice that, in general, published RR results usually appear represented at different scales and the experimental conditions are different as well. Thus direct visual comparisons between authors are barely impossible. A great work on digitalization and choice of most comparable RR results published along the past 30 years of previously published results has been made in this chapter. The scales have been normalized to the one presented in our results, and purest materials with similar RIRs have been selected for different irradiation probes. A critical review of the state of the art is made here, a work which it is worth mentioning, has not been done before. The structure of this chapter is as follows: The first part (Sect.
4.1
) is a revision of results for pure iron, followed by a critical discussion of the existing interpretations/models (Sect.
4.2
), next the equivalent information but for Fe–Cr alloys (Sect.
4.3
) and finally the contribution of computational simulations is explained (Sect.
4.4
).