01.09.2016 | Thematic Issue | Ausgabe 18/2016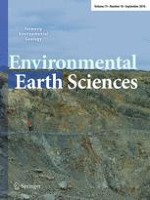 State of the environment of urban and mining areas in the Selenga Transboundary River Basin (Mongolia Russia)
Zeitschrift:
Autoren:

Nikolay Kasimov, Natalia Kosheleva, Petr Gunin, Ilya Korlyakov, Olga Sorokina, Ivan Timofeev
Wichtige Hinweise
This article is part of a Topical Collection in Environmental Earth Sciences on "Water in Central Asia", guest edited by Daniel Karthe, Iskandar Abdullaev, Bazartseren Boldgiv, Dietrich Borchardt, Sergey Chalov, Jerker Jarsjö, Lanhai Li and Jeff Nittrouer.
Abstract
The pollution of the soil cover, river water and bottom sediments in the Ulaanbaatar and Ulan-Ude cities and the Erdenet and Zakamensk mining centers was assessed using the data of geochemical surveys in 2011–2015. In Ulaanbaatar, the highest pollution with Pb, Cd, Zn, Mo, Cr, and Cu is revealed in the central industrial–transport–residential area. Emissions from thermal power plants and motor vehicles are the main sources of pollutants. In Ulan-Ude, the highest concentrations of Pb, Cd, Sb, and Sn are observed in the soils of the industrial zone with various engineering and manufacturing enterprises. The topsoils in the mining centers are contaminated with ore and accompanied elements: Mo, Cu, As, Sb in Erdenet, and W and Mo, W, Bi, Cd, Pb, and Sb in Zakamensk. The extremely hazardous level of the soil pollution in Erdenet was revealed in the mining complex area, while in Zakamensk, it occupies about half of the city's territory. The Ulaanbaatar city's effect on the trace element composition of water and bottom sediments in the Tuul River during the summer floods is insignificant, in low-water season content of dissolved Pb, Cd, Zn, Co, Sr, Ni and Cu, Co, V in suspension increase many times. In the Selenga River lower course near Ulan-Ude, the floodwater has high concentrations of dissolved Cu, Co, V, Ni and is slightly enriched with suspended V, Bi, Sb, Sn, Mo; the concentrations of heavy metals in bottom sediments remain unchanged. The mining centers exert a local impact on the river network.