01.02.2011 | Technical Paper | Ausgabe 2/2011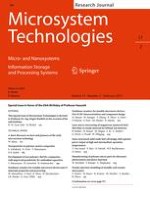 Statistical analysis and predictions of fracture and fatigue of micro-components
Zeitschrift:
Autoren:

Martin Härtelt, Heinz Riesch-Oppermann, Oliver Kraft
Wichtige Hinweise
This article is dedicated to the 65th birthday of Prof. Hausselt.
Abstract
A number of materials typically used in MEMS technology exhibit brittle fracture behaviour which leads to a scatter in strength and a size effect as a consequence. Furthermore, some of these materials, e.g. polycrystalline silicon, show fatigue effects which limit the lifetime under cyclic loading conditions. Probabilistic methods based on the Weibull theory have been established successfully in predicting the strength of micro-components under static loading. However, the consequence of fatigue on reliability predictions has not yet been studied extensively. We present strength as well as lifetime predictions for poly-silicon components with stress concentrations based on experimental data published in the literature. Our results show that while strength predictions for components with stress concentrations based on scaling procedures works well, lifetime prediction is a challenging task associated with large prediction uncertainties. Finally, we relate the crack propagation approach used for our lifetime predictions with micro-mechanical fatigue models that are discussed for poly-silicon.