17.05.2016 | UNCERTAINTIES IN LCA | Ausgabe 12/2016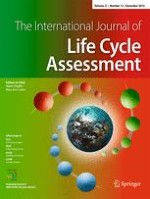 Statistical analysis of use-phase energy consumption of textile products
Autoren:

Sohail Yasin, Nemeshwaree Behary, Giorgio Rovero, Vijay Kumar
Wichtige Hinweise
Responsible editor: Adisa Azapagic
Abstract
Purpose
The purpose of this work was to present a methodology to assess the energy consumption, specifically the energy utilized in the washing and drying processes, of textile products in their use-phase with the help of statistical tools. Regardless of the environmental impacts associated with the use-phase of textile products, analysis of energy consumption in that phase is still lacking. There is a need to design methodology for identifying the hotspots and parameters influencing the energy consumption in the use-phase of textile products. A pragmatic method that consists of a life-cycle assessment (LCA) framework plus principle component analysis (PCA), extended by Procrustes analysis (PA), is used to determine the energy consumption and minimize the possible uncertainties in the use-phase of textile product systems.
Methods
The LCA
plus
PCA-PA method employed in this work to analyze the energy consumption of textile products in the use-phase comprises two statistical tools. First, PCA was applied to find the key parameters affecting the results. As an extension of PCA, PA was performed to highlight the most prominent variables within the dataset and extract the maximum amount of information. Lastly, hierarchical cluster analysis (HCA) was utilized for the classification of textile products on the basis of energy consumption variables and the similarity of their results.
Results and discussion
Among various energy consuming parameters in the use-phase of a textile product, both geographical and physical aspects can be prominent variables that significantly can affect the results of the energy consumption. After the LCA
plus
PCA-PA methodology, country of the use-phase in the geographical aspect and in the physical aspect, the fiber type and weight of the products were the influential variables. Hotspots or influential parameters being identified, a number of steps can be taken that can play an important role in decreasing environmental impacts by reducing the energy consumption in the laundering process of textile products during the use-phase.
Conclusions
The methodology of LCA
plus
PCA-PA for energy consumption in textile products was employed to study the gap in currently available assessments. Using this method, the main influencing energy consuming parameters or hotspots in the use-phase of a textile product system could easily be identified and potential improvements of sustainability can be proposed.