03.03.2018 | Ausgabe 5/2018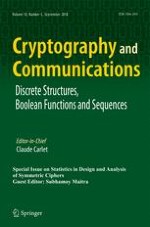 Statistical integral distinguisher with multi-structure and its application on AES-like ciphers
Zeitschrift:
Autoren:

Tingting Cui, Huaifeng Chen, Sihem Mesnager, Ling Sun, Meiqin Wang
Wichtige Hinweise
This article is part of the Topical Collection on
Special Issue on Statistics in Design and Analysis of Symmetric Ciphers
This is an extended version of [
6
] presented at ACISP 2017. In [
6
] we proposed astatistical integral distinguisher with multiple structures model and used it directly into known-key distinguishers on AES. In this paper, besides the content of [
6
], we generalize the known-key distinguisher on AES-like cipher in Section
4
, and apply it not only on AES but also on other AES-like ciphers such as Whirlpool, PHOTON and Grøstl-256 in Section
5
. The construction of the whole paper is changed comparing with [
6
].
Abstract
Integral attack is one of the most powerful tools in the field of symmetric ciphers. In order to reduce the time complexity of original integral one, Wang et al. firstly proposed a statistical integral distinguisher at FSE'16. However, they don't consider the cases that there are several integral properties on output and multiple structures of data should be used at the same time. In terms of such cases, we put forward a new statistical integral distinguisher, which enables us to reduce the data complexity comparing to the traditional integral ones under multiple structures. As illustrations, we use it into the known-key distinguishers on AES-like ciphers including AES and the permutations of Whirlpool, PHOTON and Grøstl-256 hash functions based on the Gilbert's work at ASIACRYPT'14. These new distinguishers are the best ones comparing with previous ones under known-key setting. Moreover, we propose a secret-key distinguisher on 5-round AES under chosen-ciphertext mode. Its data, time and memory complexities are 2114.32 chosen ciphertexts, 2110 encryptions and 233.32 blocks. This is the best integral distinguisher on AES with secret S-box under secret-key setting so far.