01.08.2016 | Research Article | Ausgabe 8/2016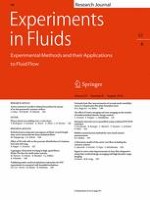 Statistical processing and convergence of finite-record-length time-series measurements from turbulent flows
Zeitschrift:
Autoren:

Michael Papageorge, Jeffrey A. Sutton
Abstract
In this manuscript, we investigate the statistical convergence of turbulent flow statistics from finite-record-length time-series measurements. Analytical solutions of the convergence rate of the mean, variance, and autocorrelation function as a function of record length are presented based on using mean-squared error analysis and the consideration of turbulent flows as random processes. Experimental assessment of the statistical convergence theory is presented using 20-kHz laser Rayleigh scattering measurements of a conserved scalar (ξ) in a turbulent free jet. Excellent agreement between experiments and theory is noted, providing validation of the statistical convergence analysis. To the authors' knowledge, this is the first reported assessment and verification of statistical convergence theory as applied to turbulent flows. The verified theory provides a practitioner a method for a priori determining the necessary temporal record length for a desired statistical accuracy or conversely, accurately estimating the uncertainty of a measurement for a given temporal record length. Furthermore, we propose a new hybrid "multi-burst" data processing scheme based on combined independent ensemble and time-series statistics targeted for shorter-duration time-series measurements. The new methodology is based on taking the ensemble mean of derived statistical moments from many individual finite-duration time-series measurements. This approach is used to systematically converge toward the "expected" value of any statistical moment at a rate of
\(\sqrt M\)
, where
M
is the number of individual time-series measurements. The proposed multi-burst methodology is assessed experimentally, and excellent agreement between measurements and theory is observed. A key outcome of the implementation of the multi-burst processing method is noted in the estimation of the autocorrelation function. Specifically, an unbiased estimator of the autocorrelation function can be used with much less uncertainty as compared to the biased estimator, which is not the case for single time-series measurements irrespective of record length. The primary outcome of the multi-burst processing scheme is a methodology for achieving high statistical convergence for turbulent flow time-series measurements characterized by limited acquisition time, whether facility or instrument dependent.