2017 | OriginalPaper | Buchkapitel
4. Step 3: Assessing the Climate Risks to the Moveable Collection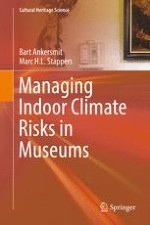 Erstes Kapitel lesen
Autoren: Bart Ankersmit, Marc H. L. Stappers
Abstract
Background information on the climate risks to moveable collections is provided. The three damage processes are chemical, mechanical and biological deterioration. Deterioration processes in which moisture plays a role, can take place at any relative humidity. There is not a universally safe, risk-free relative humidity for all materials. The only possible generalization is that a relative humidity above 75 % for a prolonged time is dangerous. As it increases the risk of faster corrosion, sick glass formation, mold growth on organic materials, and the thriving and increased activity of a number of damaging insect species, which might be unacceptable.
Temperature plays an important role in chemical and biological deterioration processes. The rate of chemical reactions increases at higher temperatures. In principle, the lower the temperature, the longer the expected lifetime of objects and thus their usability in a museum context.
The general conclusion to be drawn from the work presented in this chapter is that the strictly controlled museum climates have, since the 1980s, changed to more relaxed specifications. The aim for chemically unstable collections is long-term preservation and acceptance of seasonal changes and broader ranges of short-term fluctuations and gradients. Studying objects in-situ showed that many objects have survived remarkably well in conditions that were far from the classical 'ideal' demonstrating that strict climate specifications for objects is not required per se.