2017 | OriginalPaper | Buchkapitel
6. Step 5: Assessing Human Comfort Needs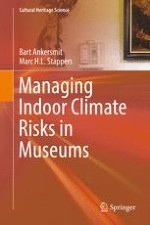 Erstes Kapitel lesen
Autoren: Bart Ankersmit, Marc H. L. Stappers
Abstract
Thermal comfort is a judgment involving different inputs influenced by physical, physiological, psychological and other processes. In this chapter these aspects are discussed in more detail. Acceptable ranges of operative temperature and humidity for a typical museum indoor environment are provided. The relationship between skin temperature and Predicted Mean Vote (PMV) shows that humans are much more sensitive to warm conditions than to cool conditions.
A new approach in thermal comfort studies is to take into account the physiological feedback (acclimatization) and psychological feedback (habituation and expectation). This approach is used to develop an adaptive model. With changing outdoor temperature, people automatically change their clothing and therefore their preferred indoor comfort temperature changes.
The volume of fresh air that needs to be supplied (ventilation) can generally be kept very small for collection preservation. For human health, ventilation is important and regulated in law. In public areas, the volume of fresh air that needs to be supplied can be adjusted according to the expected number of visitors. This chapter will show how these varying factors can be understood and balanced within a museum setting.