2020 | OriginalPaper | Buchkapitel
Stipulating Investors' Obligations in Investment Agreements as a Suitable Regulatory Approach to Prevent and Remedy Anti-Competitive Behaviour?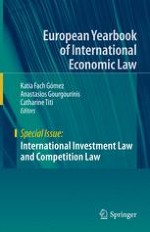 Erstes Kapitel lesen
Autoren: Karsten Nowrot, Emily Sipiorski
Abstract
This chapter approaches the regulatory option of integrating provisions of competition law into the normative structure of international investment agreements (IIAs). Grounded in the growing trend to include investors' obligations in the new generation of IIAs, the analysis attempts to assess the feasibility and potential benefits of this regulatory approach as a means to prevent and remedy anti-competitive behaviour by foreign investors. By identifying three main types of obligations currently integrated into agreements, including direct obligations, indirect obligations, and commitments to corporate social responsibility, the chapter pushes forward the proposition of including obligations aimed at promoting and protecting market competition. The similarities between the policy aims of competition law and international investment law, among them the protection of human rights and the environment, the promotion of core labour and social standards as well as the prevention of corruption, create an opening for cooperation. Further legitimizing the integration between the two spheres, foreign investors have the potential to interfere with the free play of market forces and thus contravene the aims pursued by competition policy. The chapter illustrates the potential applicability and extension of incorporating investors' obligations designed to prevent and remedy anti-competitive behaviour into IIAs. The chapter concludes by addressing the underlying burdens of enforcement and implementation with regard to any inclusion of such obligations for the investors.