2006 | OriginalPaper | Buchkapitel
Stochastic analysis of coupled nonlinear thermo-mechanical problems:SFEM Model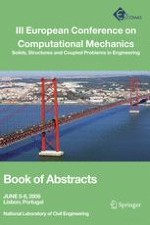 Erstes Kapitel lesen
Autoren: Jean-Baptiste Colliat, Adnan Ibrahimbegović, Martin Krosche, Markus Krosche, Martin Hautefeuille, Rainer Niekamp, Hermann G. Matthies
Verlag: Springer Netherlands
Dealing with the modelling of brittle and quasi-brittle materials requires to be able to take into account of some special features of such materials, among them is the so-called size-effect. This effect leads to an important uncertainty about the yield or maximum stress in a structure, depending on its size.Moreover this effect is mostly due to the heterogeneity of these materials, at a microscopic scale.
Here our cause of concern are structures under fire-loading, for which it is important to be able to predict the behaviour in time in order to asses the safety. Normally this is done in standardised tests at full scale, involving large experimental tools and so leading to important costs. This study is essentially dealing with the case of masonry walls made from clay hollow bricks and submitted to fire. In previous works, a numerical procedure for such masonry walls is proposed and analysed. The purpose is here to investigate the uncertainty that is inherent to several points in this kind of problems. We focuse here on the variations of the yield stress. This uncertainty is directly linked to the so-called size-effect which is an inherent and experimentaly observed property of brittle and quasi-brittle materials class to which the clay is belonging to.
Different ways are existing to model this size-effect. Most of them are introducing a "characteristic" length, which is claimed to be an intrisic property of the considered material, and use non-local constitutive laws formulations. We presented in this work a different point of view in which the non-local approach is replaced by a strong discontinuity formulation. Moreover, the heterogeneity of the material is introduced by the use of correlated random fields for the stress yield and the maximum stress. This stochastic model is solved by direct Monte-Carlo integration provided by a C++ framework named PLATON, which delivers simple-to-use parallelisation features. The results showed that the correlation length might be viewed as a way to introduce a scale into the model and then to reproduce the sizeeffect. Hence we can conclude that stochastic models are of a great importance in the view to provide reliable and predictive structural models.