01.04.2015 | Regular Article | Ausgabe 1/2015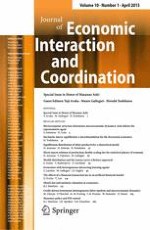 Stochastic macro-equilibrium: a microfoundation for the Keynesian economics
Zeitschrift:
Autor:

Hiroshi Yoshikawa
Wichtige Hinweise
This work is supported by the Grant-in Aid for Scientific Research (
KAKENHI
) Grant Number 24243027 by JSPS. The empirical work and simulation presented in the paper were carried out by Professor Hiroshi Iyetomi and Mr. Yoshiyuki Arata. The author is grateful to them for their assistance. He is indebted to CRD Association for the Credit Risk Database used. He is also grateful to Professors Hideaki Aoyama, Jean-Philippe Bouchaud, Nobuyuki Hanaki, Hiroshi Iyetomi, Alan P. Kirman, Takashi Negishi, Makoto Nirei, Bertrand Roehner, Robert M. Solow and seminar participants at École Normale Supérieure, École Politechnique, University of Marseille and University of Tokyo for their useful comments. He is also grateful to an anonymous referee and Editor professor Thomas Lux for constructive suggestions.
Abstract
In place of the standard search equilibrium, this paper presents an alternative concept of stochastic macro-equilibrium based on the principle of statistical physics. This concept of equilibrium is motivated by unspecifiable differences of economic agents and the presence of all kinds of micro shocks facing them. Our model mimics the empirically observed distribution of labor productivity. The distribution of productivity resulting from the matching of workers and firms depends crucially on aggregate demand. When aggregate demand rises, not only the unemployment rate declines, but more workers are employed by firms with higher productivity. The effect of the reservation wage on unemployment also depends on aggregate demand so that the distinction between cyclical and structural unemployment is ambiguous. The model, a general equilibrium model of monopolistic competition with friction and uncertainty provides a micro-foundation for Keynes' principle of effective demand.