2011 | OriginalPaper | Buchkapitel
5. Stochastic Reasoning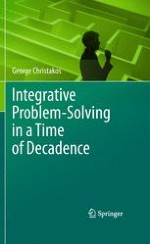 Erstes Kapitel lesen
Autor: George Christakos
Verlag: Springer Netherlands
Abstract
Sometime during the early fifth century BC, Heraclitus famously uttered:
Φύσις κρύπτεται ϕιλεί
. Many centuries later, Werner Heisenberg famously postulated that "Not only is Nature stranger than we think, it is stranger than we can think." Was Heisenberg right, and what exactly he meant by "we can think"? The spirit of this book is based on the premise that the precise meaning of this sort of thoughts can attune IPS to new dimensions of human inquiry, change one's sense of what is possible and meaningful, and guide one toward unforeseen horizons of understanding.