2014 | OriginalPaper | Buchkapitel
20. Stock Assessment of Bogue,
Boops Boops

(Linnaeus, 1758) from the Egyptian Mediterranean Waters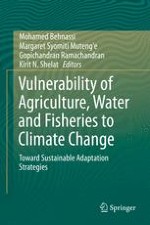 Erstes Kapitel lesen
Autor: Sahar Fahmy Mehanna
Verlag: Springer Netherlands
Abstract
The trawl fishery off Egyptian Mediterranean waters consists of 1,400 vessels, yielding a total annual landing of approximately 16,000 t. The bogue (
Boops boops
) is a target species for this fishery, with annual landings oscillating between 1,222 and 3,980 t during the last 18 years. The stock of
Boops boops
in the Egyptian Mediterranean waters has been assessed using a 3 years length frequency data (2007–2009) from the trawl fishery. The vector of natural mortality by age was calculated from Caddy's formula, using the PROBIOM Excel spreadsheet Abella AJ, Caddy JF, Serena F (Aquat Living Resourc 10:257–269, 1997). The method applied was a tuned virtual population analysis (VPA), applying the Extended Survivor Analysis (XSA) method on the period 2007–2009 and Y/R analysis on the pseudo-cohort 2007–2009. The software used was the VIT program. Results showed that the stock is over exploited, being the fishery operating below the optimal yield level since the current Y/R is lower than the maximum. Results suggest a decreasing trend in the average fishing mortality during the study period by about 40 %.