2019 | OriginalPaper | Buchkapitel
Storytelling and Innovative Digital Techniques Which Increase Motivation Levels of MOOC Participants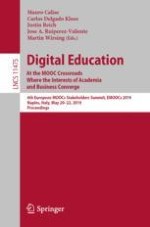 Erstes Kapitel lesen
Autoren: Maria Thirouard, Clement Cahagne, Olivier Bernaert, David Jehl
Abstract
As the number of MOOCs increase over the years, more data has become available which show poor completion rates (on average between 5 and 10%). IFP School has been producing MOOCs since 2014 introducing innovative pedagogical techniques to improve learner motivation by integrating games into our MOOC's.
In our latest MOOC: '
Tomorrow's Mobility'
, in addition to the gaming element that has proven to be successful, storytelling techniques were used that created a narrative thread which was integrated with the technical knowledge that was presented. A charming character was created that accompanied the learners throughout the entire MOOC resulting in a special relationship between the learners and the MOOC course.
In this paper we describe how this MOOC was built through the use of this character and the other pedagogical innovation that was introduced. The results show an unusual environment that increased the learners motivation to help the character. Since helping the character meant going through the different activities proposed in the MOOC, in our opinion, it was the main reason that led to the high completion rate of 20% that was obtained.