2020 | OriginalPaper | Buchkapitel
Strain Controlled Fatigue Testing of Additive Manufactured Titanium Alloy Ti-6Al-4V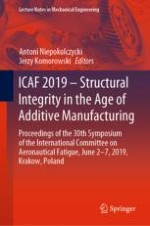 Erstes Kapitel lesen
Autoren: Rob Plaskitt, Andrew Halfpenny, Michelle Hill
Abstract
This paper describes strain controlled fatigue testing of a titanium Ti-6Al-4V alloy, additive manufactured by "electron beam melting" (EBM). The EBM material is manufactured in two conditions; with no post-manufacture heat treatment ("As-Built") and after a hot isostatic pressing (HIP) treatment. The EBM HIP treatment condition is manufactured in three build orientations; vertical, horizontal and at 45°. The fatigue test results for these EBM material conditions are compared with those for similar titanium Ti-6Al-4V alloy powder, manufactured by powder metallurgy hot-isostatic pressing (PM HIP), and for similar titanium Ti-6Al-4V alloy manufactured by traditional wrought mill into bar and sheet material.
The strain-life fatigue damage model and fatigue characterisation method used to fit fatigue test results from traditional manufacturing methods (wrought and PM HIP) appears to be applicable to the additive layer manufacturing method (EBM) for this titanium Ti-6Al-4V alloy material.
The EBM As-Built and HIP conditions in the low-cycle region all show similar fatigue performance. This is expected given their similarity in tensile strength. The effect of the HIP on the EBM additive manufactured material is seen in the high-cycle region with much better fatigue performance. This is expected as the HIP treatment reduces porosity in the material and improves the fatigue life. The three EBM HIP build orientations all show very similar fatigue performance, though the vertical has slightly longer lives than the corresponding horizontal and 45° build orientations. It is not possible to identify whether these slightly longer lives are because of a build orientation difference, a build-to-build difference, or an effect of powder recycling.
In conclusion, fatigue tests on additive manufactured material, including both manufacturing process and any post manufacturing treatment, is considered essential because the fatigue performance of additive manufactured material cannot be inferred from tensile tests or from comparable wrought material.