01.06.2008 | Ausgabe 6/2008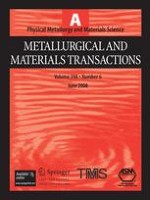 Strain Rate and Temperature Effects on the Formability and Damage of Advanced High-Strength Steels
Zeitschrift:
Autoren:

S. Winkler, A. Thompson, C. Salisbury, M. Worswick, I. Van Riemsdijk, R. Mayer
Wichtige Hinweise
Manuscript submitted September 20, 2007.
Abstract
In order to understand the crashworthiness and formability of advance high-strength steels, the effects of strain rate and temperature on the constitutive response of DP 600 and DP 780 steel tubes were investigated and compared with commercial drawing quality (DQ) and high strength low alloy (HSLA) 350 steel tubes. Uniaxial tensile tests were conducted at quasi-static (QS) (0.003 and 0.1 s−1), intermediate (30 and 100 s−1), and high (500, 1000, and 1500 s−1) strain rates using an Instron, instrumented falling weight impact tester and tensile split Hopkinson bar (TSHB) apparatus, respectively. Elevated temperature tests at 150 °C and 300 °C were also conducted at high strain rates. Following testing, metallography and microscopy techniques were used for material and damage characterization. The results obtained show that the steels studied exhibit a positive strain rate sensitivity. Compared to DQ and HSLA 350, the DP steels were found to have less formability at QS rates but enhanced formability at higher strain rates. A decrease in strength and ductility was measured with increasing temperature for the DP steels, indicating a reduction in energy adsorption due to adiabatic heating during a crash event.