01.08.2014 | Ausgabe 9/2014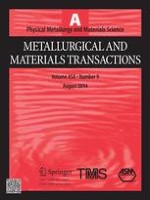 Strain Rate Sensitivity, Work Hardening, and Fracture Behavior of an Al-Mg TiO2 Nanocomposite Prepared by Friction Stir Processing
Zeitschrift:
Autoren:

Farzad Khodabakhshi, Abdolreza Simchi, Amirhossein Kokabi, Martin Nosko, Peter Švec
Wichtige Hinweise
Manuscript submitted December 11, 2013.
Abstract
Annealed and wrought AA5052 aluminum alloy was subjected to friction stir processing (FSP) without and with 3 vol pct TiO
2
nanoparticles. Microstructural studies by electron backscattered diffraction and transmission electron microscopy showed the formation of an ultra-fine-grained structure with fine distribution of TiO
2
nanoparticles in the metal matrix. Nanometric Al
3
Ti and MgO particles were also observed, revealing
in-situ
solid-state reactions between Al and Mg with TiO
2
. Tensile testing at different strain rates determined that FSP decreased the strain rate sensitivity and work hardening of annealed Al-Mg alloy without and with TiO
2
nanoparticles, while opposite results were obtained for the wrought alloy. Fractographic studies exhibited that the presence of hard reinforcement particles changed the fracture mode from ductile rupture to ductile-brittle fracture. Notably, the failure mechanism was also altered from shear to tensile rupture as the strain rate increased. Consequently, the fracture surface contained hemispherical equiaxed dimples instead of parabolic ones.