2015 | OriginalPaper | Buchkapitel
Streamlining Climate Risk and Adaptation in Capital Project Development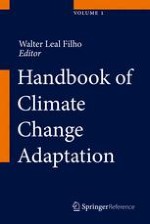 Erstes Kapitel lesen
Autoren: Lisa Constable, Ioannis Chrysostomidis
Verlag: Springer Berlin Heidelberg
Abstract
Climate change is already presenting material risks and opportunities to business and industrial sectors. As extreme weather events appear to become more frequent with climate change, these risks and opportunities have grown in prominence and, for a growing number of companies, have become closely aligned with project performance.
Understanding and managing climate risk and adaptation, at a project level, will be central to ensuring business continuity and reducing costs. Key to enhancing the resilience of future economic stability and growth is to ensure that new project developments consider climate risk and incorporate adaptation measures in their design. This is particularly important in relation to utilities, infrastructure, and the extractives sector (i.e., mining and oil and gas activities). Furthermore, building resilience to climate change and incorporating adaptation measures into project design, as well as impact management programs – such as Environmental and Social Impact Assessments (ESIAs) –, is now being mandated by a growing number of financial institutions, as well as national and state governments.
Climate change also presents a new dimension to the traditional impact assessment conceptual framework in that it implies a dynamic rather than static baseline from which project impacts occur. This means that climate change, occurring irrespective of the project, may have the effect of altering the overall significance or magnitude of project impacts on the human and natural environment.
This chapter outlines these requirements at a high level and discusses integration of climate risk and adaptation into the capital project development life cycle through compliance with lender requirements, Environmental and Social Impact Assessment procedures, and internal risk management processes. It also presents a simple step-by-step approach to streamlining assessment within the project development process.