2006 | OriginalPaper | Buchkapitel
Stress analysis of curved elastic bar and elastic wedge under bending load; infinite systems and asymptotic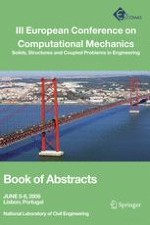 Erstes Kapitel lesen
Autoren: Vyacheslav V. Lyakh, Vyacheslav V. Meleshko
Verlag: Springer Netherlands
The paper addresses the classical problem of plane elasticity - bending of a curved elastic bar a=r=b, -a==a (r, - polar coordinates, a - the opening angle), and an infinite elastic wedge a=r<8, -a==a. Among various mathematical and engineering approaches, the method of superposition is effective [
1
]. The problems amount to infinite systems of algebraic or integro-algebraic (for the case of an infinite domain) equations, which appear to be regular at least. The existence and uniqueness of their solutions are vastly elucidated. The question is how to find the solution. The classical approach of simple reduction by Fourier assumes that coefficients with subscripts higher than a chosen value may be neglected. However, it can provide unsatisfactory results whatever high we choose this value. The more abruptly physical quantities will change in corner points of the boundary, e.g. tangential stresses, the less satisfactory results of fulfilling boundary conditions will be.
The circumstances change when the algorithm of so-called improved reduction is used. According to this technique, one should take into account the asymptotic behaviour of unknowns at infinity. Providing appropriate change of unknowns, e.g.
X
n
=
G
+
x
n
where
X
n
-
G
,
n
-8, we derive a transformed infinite system, as a rule fully regular, which may be readily solved by simple reduction retaining a few equations only. As for numerical techniques, this procedure is nothing more than improving of convergence by extracting principal terms of series or integrals. For mechanics, it is a way to fulfill boundary conditions with any accuracy - comparative analysis of results is presented - as well as to analyze mechanical effects thoroughly, since every equation determining the asymptotic has a clear mechanical sense. The peculiar aspect of finding a necessary asymptotic is also discussed. It happens when no currently available finite-element or boundary-element code allows that may be done by virtue of asymptotic. It especially concerns physical fields near corner points of the boundary, e.g. edge reactions in a plate bending under normal load, or fundamental stress singularities in mixed problems [
2
].
Mechanical conclusions are original and significant. Thus, the solution on bending of a curved bar shows that corresponding results by Timoshenko and his notion of Saint-Venant's principle as regards closed bodies should be considerably refined and corrected. As to bending of a truncated infinite wedge, we significantly advanced in clarification of Carothers paradox of plane elasticity. The results are presented in graphs and tables.