2006 | OriginalPaper | Buchkapitel
Stress-Based Optimum and Bone Architecture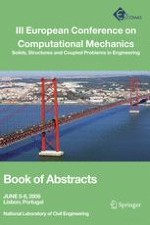 Erstes Kapitel lesen
Autoren: Hyunsun Kim, Paul J. Clement, James L. Cunningham
Verlag: Springer Netherlands
The well defined internal architecture of bone is thought to represent an optimum biological response to its mechanical environment. What is not clearly established however, is to what problem it is an optimal response. A common understanding is that the mechanical loading environment is a dominant factor that influences bone architecture. Many of the bone remodelling algorithms therefore employ the material strain as the stimulus, e.g. [
1
] and efforts have been seen in understanding the bone remodelling by applying structural optimisation, e.g. [
2
].
The structural optimisation problem is often defined as minimisation of the total compliance subject to a volume constraint, and considerable research efforts in recent decades have developed topology optimisation methods based on a discretised elastic finite element formulation. The continuum topology optimisation problem is often relaxed by using a continuous material property as the design variable, which is penalised by a power-law to obtain a 0/1 discrete solution. Whilst this mathematically rigorous approach provides an optimum solution with some confidence, the specification of such a problem requires a volume constraint which is often difficult to define.
An alternative approach is Evolutionary Structural Optimisation (ESO) based on the fully stressed design concept. Unlike the minimum compliance design which uses the local strain energy density as the sensitivity, ESO uses Von Mises stress as the local response to modify the structure, and iteratively adds and removes finite elements to minimise the volume and achieve an optimum topology [
3
].
In this paper, we investigate the optimality of bone's internal architecture by applying stress-based ESO. Bones in a relatively simple mechanical environment such as the os-calcis (heel bone), were used as test problems. The solution is compared with x-ray and CT images and is demonstrated to agree favourably with the bone's typical trabecular orientations. The optimality of bones is further investigated by applying a perturbation during optimisation and comparing the optimum topology with
in-vivo
experimental results from a model in which the same perturbation was applied. The findings indicate that there may exist more than one equilibrium state for the constant mechanical conditions, and structural optimisation can be used to investigate the bone remodelling mechanism.