01.08.2014 | Ausgabe 15/2014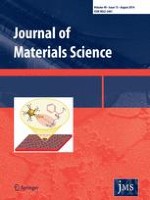 Structural and dielectric relaxor properties of A-site deficient samarium-doped (Ba1−

x

Sm2

x

/3)(Zr0.3Ti0.7O3) ceramics
Zeitschrift:
Autoren:

S. K. Ghosh, M. Ganguly, S. K. Rout, T. P. Sinha
Abstract
Rare earth samarium (Sm)-doped barium zirconate titanate (Ba
1−

x
Sm
2

x

/3
)(Zr
0.3
Ti
0.7
)O
3
(
x
= 0.00, 0.02, 0.04, 0.06, 0.08, 0.10) ceramics were prepared using solid state reaction (SSR) route. The structural and microstructural characterizations of the materials were done by using X-ray diffraction and SEM analysis, respectively. Rietveld refinement technique employed to investigate the details of crystal structure revealed single-phase cubic perovskite structure belonging to space group
Pm
-
3m
. Microstructure of the doped ceramics were found to be porous and of irregular shape and size along with aggregative characteristic. FTIR technique was employed to study the influence of additives in ceramics compositions and to investigate the displacement of M–O bonds. Raman spectroscopic study revealed that the substitution of Ba
2+
ions by Sm
3+
ions shifted the Raman-active modes toward higher energy, which indicated that these materials undergo an increase in average cubicity with increase in Sm
3+
ion concentration. The temperature dependence of dielectric properties was investigated in the frequency range from 1 kHz to 1 MHz. The dielectric measurement indicated a diffuse type of phase transition (DPT). The broadening in the dielectric permittivity and frequency dependence behavior with increase in frequency indicated a relaxor behavior of these materials. The relaxation strength of these materials was well adjusted by using the Vogel–Fulcher relation.