01.08.2014 | Ausgabe 4/2014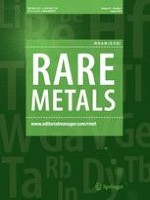 Structural and magnetic properties of single-stage hot deformed NdFeB magnets prepared by different initial densities
Zeitschrift:
Autoren:

Biao Chen, Jun Li, Ying Liu, Ren-Quan Wang, Li-Xian Lian
Abstract
The effects of initial density on the magnetic properties of NdFeB magnets prepared by single-stage hot deformation were investigated in this work. The results show that the values of maximum energy product (
BH
)
m
and coercivity
H
cj
decrease with the increase of initial density. Under optimum condition, an anisotropic magnet with a maximum energy product of 264 kJ·m
−3
was produced using the initial density of 4.4 g·cm
−3
. The influence of initial density on the magnetic properties was discussed on the basis of microstructure and strain energy. It is concluded that the thicker platelet grains are obtained along the Nd
2
Fe
14
B base plane with the initial density increasing. It is mainly because that grain rotation is restricted by high strain energy, which results from high initial density.