2017 | OriginalPaper | Buchkapitel
7. Structural and Temporary Tax Mechanisms to Promote Economic Growth and Development in France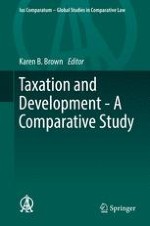 Erstes Kapitel lesen
Autor: Thomas Dubut
Abstract
France has adopted a territorial tax system for corporations. Departing from the prevailing rule of worldwide taxation, France taxes its corporations only on income (other than passive income) derived from operating in France. Under the participation regime, a qualified parent company may exclude from French taxation 95 % of a dividend received from its foreign subsidiary. This exemption is available only if the subsidiary is taxed at the prevailing rate in its country of residence (even if that rate happens to be lower than the top French rate of 33 %). This may provide an incentive for investment in developing or low-income countries wishing to attract investment. France is a party to numerous double taxation agreements and has used these treaties to provide a tax sparing credit to certain developing countries.
Synopsis
France has adopted a worldwide tax regime for resident individuals and a territorial tax system for corporations. For individuals, double taxation is alleviated by a foreign tax credit or an exemption of the income provided by a treaty. In the absence of a treaty, only a deduction for foreign taxes is allowed under the French General Tax Code (FTC).
In a departure from the prevailing rule, France taxes its corporations only on income derived from operating in France (and certain other income attributed to France by a bilateral treaty). The territorial regime does not extend to passive income (interest, dividends, royalties, and similar income) unless such income is derived from an asset carried on the books of a foreign enterprise (including a foreign branch of a French company).
Under the participation regime for foreign source dividends, a qualified parent company may exclude from French taxation 95 % of a dividend received from its subsidiaries. In order to qualify, the parent must actively participate in management, requiring ownership of at least 5 % of the capital and the financial and voting rights of the subsidiary. The exemption applies only if the subsidiary is subject to tax in France at the ordinary corporate tax rate or at the prevailing rate abroad (regardless of the actual rate, which would include, for example, Ireland and Cyprus). The parent-subsidiary regime is designed to attract holding companies to France, providing the advantage of a 1.67 % rate (33 % of 5 %) on dividends paid by subsidiaries. Dividends received from subsidiaries operating in so-called "non-cooperative" states, however, are not eligible for the exemption.
In some cases, the participation exemption extends to capital gains on the sale of shares held in a subsidiary. In this case, however, only 88 % of the gain is exempt from taxation.
Under the EU Mergers and Acquisitions regime, capital gain resulting from these transactions between companies subject to French tax and those in other EU member states (and third countries with approval of the French tax administration) is exempt from tax. Registration fees and stamp duties are also eliminated.
As described above, tax disincentives have been provided for taxpayers that engage in transactions with certain "non-cooperative" states or territories (NCST). An exceptionally high withholding tax rate, 75 %, is applied to payments of dividends, interest, and royalties paid to financial institutions located in a NCST. Real estate profits, capital gains from real estate or the sale of shares, and income from artistic or sporting services are subject to the same withholding rate when derived or received by entities established in a NCST. A 60 % rate is applied to trusts, gifts, or transfers made by a settlor if the trustee is established in or a resident of a NCST.
Additional denial of tax benefits includes disqualification from the participation exemption regime for dividends received from (and capital gains from the sale of shares of) subsidiaries established in a NCST. In addition, payments of dividends, interest, royalties and payments for services made to entities located in a NCST may not be deducted from the French income tax base. Special rules apply to CFCs located in a NCST (deemed distribution of dividends to parent) and for purposes of transfer pricing documentation. None of the disincentives applies if the taxpayer can prove that NCST operations were undertaken with a purpose other than to shift benefits. A country may only be a NCST if (i) it is not a member of the EU, (ii) the OECD has analyzed the country's exchange of information practices, (iii) it has not entered into an exchange of information agreement with France containing a mutual assistance clause, and (iv) it has not entered into any mutual agreement or treaty with 12 or more member states. Eight countries are listed as NCSTs by the French Ministry: Botswana, Brunei, Guatemala, the Marshall Islands, the British Virgin Islands, Montserrat, Nauru, and Niue.
France has implemented additional disincentives for preferential tax regimes. A preferential tax regime is one in which the amount of tax imposed on an item of income is 50 % less than the tax that would have been imposed on France. The emphasis is on effective tax rates and not nominal or statutory tax rates.
Operations in countries with preferential tax regimes have significant disadvantages. Deductions for payments made by French companies to individuals or legal entities domiciled in such countries are not allowed unless the taxpayer can establish that the transactions are real and do not involve artificial amounts. If an entity subject to French corporate tax owns a greater-than-50 % interest in any entity established outside of France that benefits from a preferential regime, a proportionate amount (relative to the shares held) of the profits of the entity is taxable in France. Anti-abuse rules relating to CFC apply automatically to entities situated in a preferential regime.
As a member of the OECD, France participates in the Forum on Harmful Tax Practices and the Global Tax Forum (GTF). After phase 1 and phase 2 review by the GTF, France's system has been deemed "compliant."
France has an extensive network of information exchange agreements with 142 partners. These include double tax agreements and TIEAs. Exchange of information generally follows the OECD Model Convention's Article 26, except those concluded with former French colonies which are based on Article 26 of the UN Model Convention. Because of its membership in the OECD and the Council of Europe, France is obligated to provide administrative assistance in tax matters under a number of specific directives and Conventions. The type of information to be exchanged and the types of taxes covered vary from treaty to treaty.
Incentives to Invest Abroad
The French tax system provides some incentives for investment abroad in developing and developed countries. The former "worldwide tax consolidation regime," designed to encourage international development, allowed French multinationals to consolidate the income or losses of their foreign branches or subsidiaries with their French taxable income or losses. It was granted to large enterprises on a case-by-case basis until the resulting heavy budgetary losses and concerns that such benefits were accorded only to multinationals caused it to be repealed in 2011.
Since 2009, a special regime applies to small and medium enterprises (SMEs) which are allowed to deduct (for up to 5 years) losses from 95 %-owned foreign branches or subsidiaries established in EU member states or in countries with which France has concluded a tax treaty containing an administrative assistance clause. This benefit is available only if the branch or subsidiary is subject to a tax equivalent to a corporate tax. Special rules apply this regime to subsidiaries organized in EU states, Norway, or Iceland, even if they are not subject to corporate tax. This measure is designed to encourage French SMEs to go abroad by reducing the initial costs of doing so, allowing these costs to offset the French tax base of the owner.
SMEs are also encouraged to go abroad by benefiting from a special tax credit for up to 50 % of prospecting expenditures incurred in order to permit export outside of the EU market. There is a ceiling on eligible expenditures and a 2-year limit on availability.
In order to encourage investment in developing countries, France has used double taxation agreements to provide a "tax sparing credit" to certain developing countries. This credit applies to passive income and allows an offset against French tax liability for a fictitious tax (or one higher than the French rate of tax) levied in the country in which investment is made. An example of this is the
Décote africaine
contained in the DTCs with French-speaking African countries. Because the tax sparing credit provided no incentive for French companies to re-invest the tax savings in the local economy, these types of agreements have receded.
There are incentives for investment in overseas French departments and territories. These include a reduced income tax rate or a deduction from income subject to French corporate tax. These incentives are available only for investments in important sectors of economic activity for the locality, including tourism, aquaculture, renewable energy, or in some cases, mining.
Incentives to Invest in France
France provides a number of incentives for economic activity within its borders. These include incentives built into the general tax base, such as generous depreciation rules, carry back and forward of losses, and generous research and jobs creation tax credits. A special regime to encourage companies to establish headquarters or logistics centers in France (to coordinate provision of management, auditing, and other administrative services to a group of companies) is also provided. This also involves tax exemptions of limited duration for income paid to certain employees of these companies.
Companies that locate in certain disadvantaged or otherwise targeted areas may benefit from corporate tax exemptions for specified periods. Innovative new companies that are SMEs may also enjoy a tax exemption.
Corporate Tax Rate Structure
The corporate tax rate is 33.33 %, with an additional 3.3 % social contribution imposed on companies with income exceeding a certain level. Large enterprises must pay an additional "exceptional contribution" for a limited period.
A reduced rate of 15 % applies to income from intellectual property, including royalties and capital gains derived on the transfer, held for at least 2 years.
SMEs are taxed at the reduced rate of 15 % on a first level of income and 33.33 % on the remainder.
Trade and Investment Agreements
France is a party to a number of bilateral and multilateral trade and investment agreements.