01.11.2014 | Ausgabe 11/2014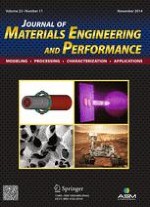 Structural Characterization and Corrosion Stability of a Si-Doped DLC Coating Applied on Cylinder Liner
Zeitschrift:
Autoren:

Edney Deschauer Rejowski, Mara Cristina Lopes de Oliveira, Renato Altobelli Antunes, Marina Fuser Pillis
Abstract
The aim of this work was to characterize the structure and electrochemical behavior of a silicon-doped diamond-like carbon (DLC) film deposited by hollow cathode plasma immersion ion process (HCPIIP) on a cylinder liner for heavy duty diesel engine. The film structure was characterized by scanning electron microscopy, x-ray diffraction, and Raman spectroscopy. Nanoindentation tests were performed to evaluate the film hardness and Young's modulus. Monitoring of the open circuit potential with time, electrochemical impedance spectroscopy (EIS), and potentiodynamic polarization measurements was performed in a solution consisting of 0.25 wt.% NaCl + 5.0 wt.% H
2
SO
4
at room temperature. The results showed that the film has an amorphous nature consisting of a mixture of sp
3
and sp
2
-like carbon bonds with an
I
D
/
I
G
ratio of 0.87. Nanoindentation tests showed that the
H
/
E
ratio of the DLC film was 0.102. EIS measurements indicated that the impedance values were higher for the DLC-coated material. Potentiodynamic polarization curves revealed that the corrosion current density was almost three times lower for the coated alloy. The HCPIIP process was considered successful to enhance the surface properties of the cylinder liner.