01.01.2015 | Original Paper | Ausgabe 2/2015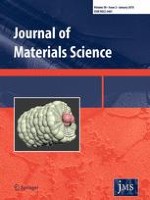 Structural, magnetic, and magnetocaloric studies of La0.67Ba0.22Sr0.11Mn1−

x

Co

x

O3 manganites
Zeitschrift:
Autoren:

F. Ben Jemaa, S. Mahmood, M. Ellouze, E. K. Hlil, F. Halouani
Abstract
In this work, we report the effect of Co doping on the structural and magnetic properties of La
0.67
Ba
0.22
Sr
0.11
Mn
1−

x
Co
x
O
3
(
x
= 0.0, 0.1, 0.2, 0.3 and 1) nanopowder samples synthesized by sol–gel method. All the samples crystallized in the orthorhombic system with
Pnma
space group, and the unit cell volume decreased significantly for
x
= 0.1, and then increased with increasing Co concentration up to
x
= 0.3. The stoichiometry and grain morphology of all samples were investigated by energy dispersive X-ray analysis and scanning electron microscopy. The magnetization measurements indicated that all samples exhibited a paramagnetic–ferromagnetic transition, and the transition temperature decreased with the increasing Co concentration. The magnetocaloric measurements on this series gave a significant magnetic entropy change (−Δ
S
M
) near Curie temperature. The undoped sample gave a maximum magnetic entropy change of 2.75 J/kg K in a field change of 5 T, with a relative cooling power (RCP) of 290 J/kg. Intermediate level of substitution of Co for Mn (
x
= 0.2) was found to result in a decrease of the maximum magnetic entropy change, and to induce significant broadening of the peak, resulting in a relatively high RCP value of 270 J/kg. The observed maximum entropy change was found to be slightly lower than that calculated using the Landau model, and more significant deviations from the calculated values were observed at low temperatures. Our results on the magnetocaloric properties suggest that the parent compound La
0.67
Ba
0.22
Sr
0.11
MnO
3
is attractive as a possible material for magnetic refrigeration around ambient temperature, whereas Co-doped samples are more efficient at lower temperatures.