2006 | OriginalPaper | Buchkapitel
Structural Model Validation and the Lack-of-Knowledge Theory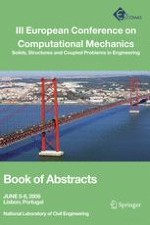 Erstes Kapitel lesen
Autoren: Pierre Ladevèze, Paul Enjalbert, Guilllaume Puel, Thierry Romeuf
Verlag: Springer Netherlands
Today, the validation of complex structural models -
i.e.
the assessment of their quality compared to an experimental reference - remains a major issue. Most advanced approaches rely on the updating of deterministic dynamic parameters (stiffness, mass, damping) based on free or forced vibration tests. Uncertainties and probabilistic models can also be taken into account. In these works, the model validation is performed in a restricted sense. The true validation problem should be addressed through the comparison between the model - whether deterministic or not - used classically and the complete reality: such an issue raises philosophical questions.
Here, we introduce a tentative answer through the Lack-Of-Knowledge (LOK) Theory, whose aim is to "model the unknown". In a certain way, this can be interpreted as an extension of what design engineers do when they introduce safety factors. Of course, the theory takes into account all the sources of uncertainties, including modeling errors, through the concept of basic LOKs. So far, two types of basic LOKs have been introduced: stiffness and excitation. For example, the structure being considered as an assembly of substructures, the basic stiffness LOKs are defined on the substructure level: each LOK is a scalar internal variable which quantifies the substructure's LOK state in terms of structural stiffness; in mathematical terms, this variable is bounded by two stochastic bounds which follow probabilistic laws.
Finally, a set of basic LOKs is added to the classical model to constitute the true model. This leads to an envelope of the actual responses; in particular, we can derive for the whole structure the effective LOK of a quantity of interest α, resulting in an interval with stochastic bounds. Another major question is the reduction of the LOKs using additional experimental information; the starting point could be an overestimated initial LOK level coming from experience. The paper focuses on the basic ideas of the Lack-Of-Knowledge Theory and on its first applications. Academic examples as well as industrial cases will be presented.