08.05.2019 | Ausgabe 12/2019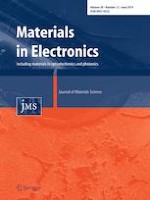 Structural, optical and electrical behavior of ZnO@Ag core–shell nanocomposite synthesized via novel plasmon-green mediated approach
Autoren:

C. Vivek, B. Balraj, S. Thangavel
Wichtige Hinweise
Publisher's Note
Springer Nature remains neutral with regard to jurisdictional claims in published maps and institutional affiliations.
Abstract
The present investigation deals with the preparation of pure Zinc oxide (ZnO) and Zinc oxide (ZnO)@Silver (Ag) core–shell nanocomposites (CSNCs) via green approach. The
C. auriculata
leaf extract acted as the reducing agent to prepare ZnO@Ag CSNCs which served as core (ZnO) and shell (Ag) material. The Ag shell material was consequently grown over the surface of ZnO by using cationic surfactant (CTAB). In the formation of ZnO@Ag core–shell material, ZnO and Ag NPs had face-center-cubic and hexagonal wurtzite structures which were investigated by powder X-ray diffraction (PXRD) studies. The stretching and bending vibration of the various functional groups were observed from the prepared material using fourier transform infrared spectroscopy (FTIR) analysis. In diffuse reflectance spectrum (DRS) spectrum, energy band gap was achieved to be 3.72 eV and 3.96 eV respectively for ZnO NPs and ZnO@Ag CSNCs. From the result, energy band gap (0.24 eV) was slightly increased by occurrence of blue shift due to quantum confinement effect. The presence of surface defects, Zn interstitials and oxygen vacancies in the prepared material were primarily confirmed by Photoluminescence (PL) and Raman analysis. The scanning electron microscopy (SEM) and transmission electron microscopic (TEM) analysis were used to identify the core–shell formation of ZnO@Ag. The dielectric behavior of the prepared material was studied by observing the properties of dielectric constant, dielectric loss and ac conductivity with respect to different temperatures (313–423 K) and different frequencies (1 kHz to 1 MHz).