01.04.2014 | Ausgabe 4/2014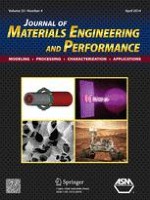 Structural, Optical, Electrical, and Dielectric Properties of the Spray-Deposited WO3 Thin Films
Zeitschrift:
Autoren:

V. V. Ganbavle, G. L. Agawane, A. V. Moholkar, J. H. Kim, K. Y. Rajpure
Abstract
Studies on effect of the substrate temperature on physicochemical properties of WO
3
thin films prepared using spray pyrolysis technique have been presented.
Raman spectra
of the film shows presence of W-O-W network with stretching and bending vibrations which revealed monoclinic structure of WO
3
which is confirmed by
XRD studies
. XPS studies show that films are sub-stoichiometric and O/W ratio is 2.87, with W present in two valence states W
+5
and W
+6
with ratio of 0.21. Smallest crystallite size (28 nm) is observed for the film deposited at 425 °C, and on either side crystallite size is larger. Optical studies show band gap energy 2.6 eV and NUV, blue and green photo-emissions from WO
3
films. Scanning electron micrographs depict wired network of the WO
3
, and AFM shows rough nature of the films. The thermo-emf is found to be linearly changing with temperature difference and decreases with increase in the substrate temperature.