01.01.2015 | Ausgabe 1/2015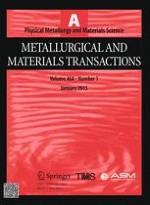 Structural Transitions of NiMn Precipitation Nanostructures as Determined by X-ray Diffraction Line Broadening and Mössbauer Spectroscopy
Zeitschrift:
Autoren:

Mohamad Reza Movaghar Garabagh, Syamak Hossein Nedjad
Wichtige Hinweise
Manuscript submitted April 30, 2014.
Abstract
Structural transitions of nanometer-sized NiMn preprecipitates during isothermal aging of Fe-Ni-Mn alloys have been faintly indicated by the measurement of hardness and electrical resistivity changes. It is shown that a precise measurement of X-ray diffraction (XRD) line breadths in association with Mössbauer spectroscopy aims a better understanding of the structural transition of the precipitation nanostructures. Changes in the XRD line breadths clearly identified three stages corresponding to the stimulated clustering of solute elements, the formation of Guinier–Preston (GP) zones and subsequent transformation to the second-phase precipitates. Effective hardening takes place when preliminary solute clusters evolve to paramagnetic GP zones.