01.01.2014 | Original Paper | Ausgabe 1/2014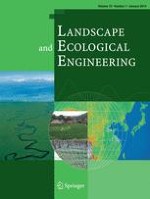 Structure and diversity of remnant natural evergreen broad-leaved forests at three sites affected by urbanization in Chongqing metropolis, Southwest China
Zeitschrift:
Autoren:

Yongchuan Yang, Michiro Fujihara, Baizhan Li, Xingzhong Yuan, Keitarou Hara, Liangjun Da, Mizuki Tomita, Yi Zhao
Abstract
Evergreen broad-leaved forests (EBLFs, lucidophyllous forests) are vegetation types characteristic of East Asia. The extent of EBLFs has decreased significantly due to long-term anthropogenic disturbance, and remnant EBLFs in urban area are rare and important landscape types contributing to biodiversity and sustainable development. This study focuses on remnant EBLFs on Mt. Gele (GL), Mt. Tieshanping (TSP), and Mt. Jinyun (JY), located from the inner city to outskirts of Chongqing metropolis, Southwest China. Species of Theaceae, Lauraceae, Symplocaceae, and other families, which are essential floristic components of primary EBLFs, were still the main components at the three sites. GL and JY showed higher biodiversity, with richer heliophytes and shade-tolerant species, respectively.
Castanopsis carlesii
var.
spinulosa
was the sole dominant species at all three sites in woody layer, with codomination by
Pinus massoniana
and
Cinnamomum camphora
at GL and by
Machilus pingii
and
Castanopsis fargesii
at JY; these evergreen broad-leaved trees all showed inverse-J or sporadic-shaped size distribution with large numbers of small stems, but the conifer tree
Pinus massoniana
showed unimodal distribution with small stems at GL. The height growth of tree species, especially
Castanopsis carlesii
var.
spinulosa
, was increasingly restricted from JY to TSP to GL. Sprouting is an important life history strategy at community and population level, and differences were exhibited from GL to TSP to JY. A rural–urban gradient from JY to TSP to GL was indicated in this study. Species composition, biodiversity, and stand structure of these remnant EBLFs showed obvious differences along this gradient, and conservation responses to address the effects of urbanization need to be carefully considered.