29.04.2016 | Ausgabe 3/2018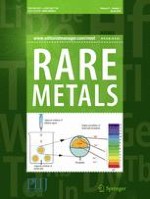 Structure and electrochemical properties of LaMgNi4−

x

Co

x

(
x

= 0–0.8) hydrogen storage electrode alloys
Zeitschrift:
Autoren:

Tai Yang, Ting-Ting Zhai, Ze-Ming Yuan, Wen-Gang Bu, Yan Qi, Yang-Huan Zhang
Abstract
LaMgNi
4−

x
Co
x
(
x
= 0–0.8) electrode alloys used for MH/Ni batteries were prepared by induction melting. The structures and electrochemical hydrogen storage properties of the alloys were investigated in detail. X-ray diffraction (XRD) and scanning electron microscopy (SEM) analysis show that LaMgNi
4
phase and LaNi
5
phase are obtained. The lattice parameters of the two phases increase first and then decrease with Co content increasing. The electrochemical properties of the alloy electrodes were measured by means of simulated battery tests. Results show that the addition of Co does not change the discharge voltage plateau of the alloy electrodes. However, the maximum discharge capacity increases from 319.9 mAh·g
−1
(
x
= 0) to 347.5 mAh·g
−1
(
x
= 0.4) and then decreases to 331.7 mAh·g
−1
(
x
= 0.8). The effects of Co content on electrochemical kinetics of the alloy electrodes were also performed. The high rate dischargeability (HRD) first increases and then decreases with Co content increasing and reaches the maximum value (95.0 %) when
x
= 0.4. Test results of the electrochemical impedance spectra (EIS), potentiodynamic polarization curves and constant potential step measurements of the alloy electrodes all demonstrate that when Co content is 0.4 at%, the alloy exhibits the best comprehensive electrochemical properties.