01.05.2010 | Review | Ausgabe 5/2010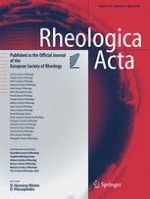 Structure and linear viscoelasticity of flexible polymer solutions: comparison of polyelectrolyte and neutral polymer solutions
Zeitschrift:
Autor:

Ralph H. Colby
Wichtige Hinweise
Paper presented at the De Gennes Discussion Conference held February 2–5, 2009 in Chamonix, France.
Dedicated to the memory of Professor Pierre-Gilles de Gennes; gourou magnifique et inspiration éternelle.
Abstract
The current state of understanding for solution conformations of flexible polymers and their linear viscoelastic response is reviewed. Correlation length, tube diameter, and chain size of neutral polymers in good solvent, neutral polymers in θ-solvent, and polyelectrolyte solutions with no added salt are compared as these are the three universality classes for flexible polymers in solution. The 1956 Zimm model is used to describe the linear viscoelasticity of dilute solutions and of semidilute solutions inside their correlation volumes. The 1953 Rouse model is used for linear viscoelasticity of semidilute unentangled solutions and for entangled solutions on the scale of the entanglement strand. The 1971 de Gennes reptation model is used to describe linear viscoelastic response of entangled solutions. In each type of solution, the terminal dynamics, reflected in the terminal modulus, chain relaxation time, specific viscosity, and diffusion coefficient are reviewed with experiment and theory compared. Overall, the agreement between theory and experiment is remarkable, with a few unsettled issues remaining.