01.08.2014 | Original Paper | Ausgabe 8/2014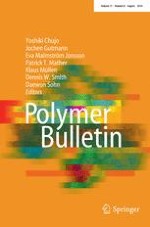 Structure and properties of novel blend films from alginate and quaternized poly(4-vinyl-
N

-carboxymethylpyridine) containing zwitterion structure units
Zeitschrift:
Autoren:

Yong Zhang, Yingying Zhou, Changhua Liu
Abstract
The aim of this work was to prepare a hydrophilic film which can be applied in membrane separation. This hydrophilic film was obtained by blending alginate and quaternized poly(4-vinyl-
N
–carboxymethylpyridine) (QPVP) containing zwitterion structure units. The films were characterized by infrared, wide-angle X-ray diffraction, scanning electron microscopy, thermogravimetric analysis, tensile testing and water adsorption. The results indicated that strong interaction occurred between alginate and QPVP. The thermal stability of the blend was weakened with increasing the amount of QPVP. At a QPVP loading of 30 %, the tensile strength can reach the maximum value of 53.5 MPa while the breaking elongation arrives to 16 %. The water absorption has also been investigated in differential ratio of ethanol versus water. Meanwhile, the relationship between their structure and properties was also discussed.