05.01.2016 | Original Paper | Ausgabe 7/2016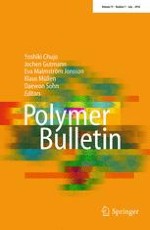 Structure and properties of surface-acetylated cellulose nanocrystal/poly(butylene adipate-
co

-terephthalate) composites
Zeitschrift:
Autoren:

Xuzhen Zhang, Piming Ma, Yong Zhang
Abstract
Cellulose nanocrystal (CNC) was extracted from microcrystalline cellulose (MCC) and then surface modified by acetic anhydride to obtain acetylated CNC (ACNC). ACNC that has lower polarity than CNC was mixed with poly(butylene adipate-
co
-terephthalate) (PBAT) through melt blending to obtain composites. ACNC was uniformly dispersed in PBAT matrix as evidenced by scanning electron microscopy observation. Thermogravimetric analysis indicates the thermal stability of PBAT could be improved by the addition of either CNC or ACNC. In the rheological tests and dynamic mechanical analysis, PBAT/ACNC composites showed higher melt elasticity, complex viscosity, storage modulus and glass transition temperature than PBAT/CNC composites, indicating a stronger interfacial adhesion between ACNC and PBAT. As a result of the uniform dispersion of ACNC and strong interfacial adhesion between ACNC and PBAT, mechanical properties of PBAT/ACNC composites improve obviously. Good mechanical properties, high initial decomposition temperature and high glass transition temperature of PBAT/ACNC composites could contribute to the practical commercial utilization of PBAT.