01.09.2013 | Ausgabe 9/2013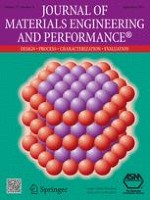 Structure and Properties of Ti-19.7Nb-5.8Ta Shape Memory Alloy Subjected to Thermomechanical Processing Including Aging
Zeitschrift:
Autoren:

S. Dubinskiy, Vladimir Brailovski, S. Prokoshkin, V. Pushin, K. Inaekyan, V. Sheremetyev, M. Petrzhik, M. Filonov
Abstract
In this work, the ternary Ti-19.7Nb-5.8Ta (at.%) alloy for biomedical applications was studied. The ingot was manufactured by vacuum arc melting with a consumable electrode and then subjected to hot forging. Specimens were cut from the ingot and processed by cold rolling with
e
= 0.37 of logarithmic thickness reduction and post-deformation annealing (PDA) between 400 and 750 °C (1 h). Selected samples were subjected to aging at 300 °C (10 min to 3 h). The influence of the thermomechanical processing on the alloy's structure, phase composition, and mechanical and functional properties was studied. It was shown that thermomechanical processing leads to the formation of a nanosubgrained structure (polygonized with subgrains below 100 nm) in the 500-600 °C PDA range, which transforms to a recrystallized structure of β-phase when PDA temperature increases. Simultaneously, the phase composition and the β → α″ transformation kinetics vary. It was found that after conventional cold rolling and PDA, Ti-Nb-Ta alloy manifests superelastic and shape memory behaviors. During aging at 300 °C (1 h), an important quantity of randomly scattered equiaxed ω-precipitates forms, which results in improved superelastic cyclic properties. On the other hand, aging at 300 °C (3 h) changes the ω-precipitates' particle morphology from equiaxed to elongated and leads to their coarsening, which negatively affects the superelastic and shape memory functional properties of Ti-Nb-Ta alloy.