2013 | OriginalPaper | Buchkapitel
32. Structure of
τ

2-Al3Co, a Monoclinic Approximant of the Al–Co Decagonal Quasicrystal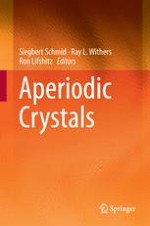 Erstes Kapitel lesen
Autoren: K. Sugiyama, A. Yasuhara, K. Hiraga
Verlag: Springer Netherlands
Abstract
The structure of the approximant
τ
2
-Al
3
Co (
P
2/
m
:
a
=3.9831(3) nm,
b
=0.8127(1) nm,
c
=3.2182(3) nm, and
β
=108.03(1)
∘
), associated with the decagonal quasicrystals with a period of 0.8 nm, was analyzed using a high-angle annular detector dark-field (HAADF) observation with
C
s-corrected scanning transmission electron microscopy (STEM). The HAADF-STEM image clearly showed the arrangement of individual Co atoms as bright dots. The contrast among the atoms in the lattice led to an image of the fundamental structure of the
τ
2
-Al
3
Co phase, composed of an ordered arrangement of pentagonal columnar units with edge lengths of 0.47 nm. The arrangements of atoms in the columnar units were quantitatively determined by single crystal X-ray diffraction (XRD). The results demonstrate that the pentagonal columnar units form common tiles in the shape of a squashed hexagon, a pentagonal star, and a crown. Among the tiles, the pentagonal star composed of 10 pentagonal units was similar to that found in the W-(AlNiCo) approximant for the Al–Ni–Co decagonal quasicrystal (DQC).