2020 | OriginalPaper | Buchkapitel
Structure of Ciliate, Rotifer, and Crustacean Communities in Lake Systems of Northeastern Poland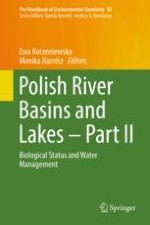 Erstes Kapitel lesen
Autoren: Jolanta Ejsmont-Karabin, Krystyna Kalinowska, Maciej Karpowicz
Abstract
Pelagic zooplankton communities are structured by ecological processes, like dispersal, and by biotic interactions and abiotic environmental conditions. In this paper we study a role of the processes in structuring zooplankton communities in relation to a character of connections between lakes in their systems. Studies were carried out in five lake systems in northeast Poland: the Great Masurian Lakes, lakes of the Krutynia River watershed, harmonic and dystrophic lakes in the Wigry National Park, and lakes in the Suwałki Landscape Park. Pelagic waters of all the studied lakes involved 89 ciliate, 129 rotifer, 40 cladoceran, and 22 copepod species. Forty-seven rotifer species were littoral, occasionally occurring in the pelagial. In four harmonic lake systems, there were the same most frequent species: among are rotifers
Keratella cochlearis
(100% frequency) and present in more than 75%
Ascomorpha saltans
,
Asplanchna priodonta
,
Collotheca mutabilis
,
Gastropus stylifer
,
Kellicottia longispina
,
Keratella quadrata
,
Polyarthra major
,
P. remata
, and
P. vulgaris
and crustaceans
Daphnia cucullata
and
Diaphanosoma brachyurum.
Among ciliates, the most common and frequent (100%) species for two harmonic lake systems was
Rimostrombidium humile
. Dystrophic lakes in the Wigry National Park had a completely different list of the most frequent ciliate and rotifer species, among which only one ciliate (
Halteria grandinella
) and one rotifer species (
Polyarthra remata
) occurred in more than 75% of the lakes. Our results suggest that the role of dispersal processes in structuring zooplankton communities is particularly important in the system of lakes that are connected directly or by short channels.