2018 | OriginalPaper | Buchkapitel
5. Structures Formed during Cooling and Solidification of Flood Basalt Lavas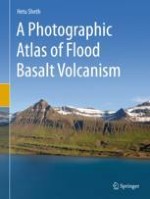 Erstes Kapitel lesen
Autor: Hetu Sheth
Abstract
Despite their name,
joints
are not joins between blocks of rock, but fractures along which a larger rock mass has been split into blocks. In flood basalt lava flows, jointing, particularly columnar jointing, develops due to contraction of the lava on cooling and solidification, and is a primary and universal structural feature, seen everywhere in various degrees of perfection. Joint columns are typically five-, six- or seven-sided, often beautiful and exquisite enough to appear man-made, and ascribed by legends to creation by mythological giants (see Sigurdsson
1999
). Chapter 9 of Sigurdsson (
1999
), titled "Columnar Basalt and the Neptunists", and Chapter 2 of Young (
2003
), titled "Basaltes Prismatiques: Lava, Columnar Basalt, and Ancient Volcanoes", describe how several medieval European philosophers and scientists interpreted the beautifully formed, symmetrical and hexagonal columns of basaltic lava flows as giant crystals of basalt precipitated from a primordial ocean. Yet other European field geologists were able to physically trace columnar basalt flows to their eruptive vents on known volcanoes, and a volcanic origin for basalt was thus postulated and ultimately accepted.
World-famous localities for columnar basalt include the Giant's Causeway in Northern Ireland, and Staffa in the Inner Hebrides of Scotland. By popular (and likely true) accounts, even the unusual and striking exterior of Reykjavik's Hallgrímskirkja church (built during 1945–1986, and the largest in Iceland at 74.5 m high) has been designed to mimic basalt columns. Interestingly, there is also the commercial side to columnar basalt: well-formed columns of the Columbia River basalt, of various colours, are prized for their use in landscaping homes and office buildings, and fetch high prices.
Joint columns in the horizontal flood basalt lava flows are typically vertical. Thick flood basalt lava flows take several years to solidify completely. Their cooling history and jointing patterns can be affected by external conditions, most importantly the ingress of meteoric water (rain and streams) into the upper parts of solidifying flows, resulting in haphazardly arranged and twisted columns which can be interpreted by the unwary as indicating tectonic deformation. (The same process can operate in shallow-level intrusions.) Tiers of regular, vertical and thicker columns in thick flood basalt lava flows, called
colonnades
, can alternate with tiers of irregular and thinner columns, called
entablatures
. Colonnades represent slow, conductive cooling but entablatures indicate rapid, convective cooling aided by meteoric water ingress, with abundant glass found in the quenched lava (e.g., Tomkeieff
1940
; Long and Wood
1986
; Lyle
2000
). Well-developed, strikingly contrasted colonnade-entablature tiers are a universal feature of the Columbia River flood basalts, yet such colonnade-entablature tiers are rare in the Deccan lava flows, even in the Western Ghats escarpment where the sequence is at its thickest (~2 km). Again, many Deccan flows in central India do show well-developed colonnade-entablature tiers. The reasons for these interprovince and intraprovince differences in the flows' jointing characters are not yet understood, and constitute one of the interesting broader "palaeovolcanological" questions remaining to be answered.