01.07.2011 | Original Paper | Ausgabe 10-12/2011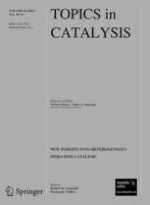 Structures, Mechanisms, and Kinetics of Ammoxidation and Selective Oxidation of Propane Over the M2 Phase of MoVNbTeO Catalysts
Zeitschrift:
Autoren:

William A. Goddard III, Lianchi Liu, Jonathan E. Mueller, Sanja Pudar, Robert J. Nielsen
Wichtige Hinweise
Dedicated to Dr. Robert Grasselli in honor of his 80th Birthday, whose every year has enriched us all.
Abstract
We report here first-principles-based predictions of the structures, mechanisms, and activation barriers for propane activation by the M2 phase of the MoVNbTeO multi-metal oxide catalysts capable of the direct conversion of propane to acrylonitrile. Our approach is to combine extensive quantum mechanical (QM) calculations to establish the mechanisms for idealized representations of the surfaces for these catalytic systems and then to modify the parameters in the ReaxFF reactive force field for molecular dynamics (MD) calculations to describe accurately the activation barriers and reaction mechanisms of the chemical reactions over complex mixed metal oxides. The parameters for ReaxFF are derived entirely from QM without the use of empirical data so that it can be applied to novel systems on which there is little or no data. To understand the catalysis in these systems it is essential to determine the surface structures that control the surface chemistry. High quality three-dimensional (3D) Rietveld structures are now available for the M1 and M2 phases of the MoVNbTeO catalysts. However the details of the chemical mechanisms controlling selectivity and activity have remained elusive because the catalytically important sites in these Rietveld structures are occupied by mixtures of Mo and V atoms, obscuring the actual distributions of the metals and oxides at the active sites. To solve this problem we use a supercell of the Rietveld structure sufficiently large that all atoms can be whole, then we use Monte Carlo techniques based on ReaxFF to resolve these partial occupations into the optimum configuration of whole atoms still consistent with the X-ray data. We will report the ReaxFF resolved 3D structures for the M2 phase of the MoVNbTeO system. Using the resolved 3D structures we consider the distribution of sites on the important surfaces and carry out ReaxFF Reactive Dynamics (RD) calculations to follow the initial steps of the reactions. Such studies provide insights into the chemical reaction steps on MMO catalysts that should be useful in designing more selective and more active systems. We find that this suggests the critical role of the TeIV oxo chains for activating propene but not propane in the M2 phase. This suggests a new mechanism for this phase.