01.10.2016 | Ausgabe 3/2016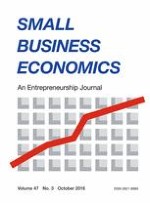 Students climbing the entrepreneurial ladder: Does university internationalization pay off?
Zeitschrift:
Autoren:

Tommaso Minola, Davide Donina, Michele Meoli
Abstract
The entrepreneurial university is emerging as a new archetype of higher education institution that fosters knowledge generation and transfer, contributes to local development and empowers individuals in fast-changing markets. Many institutional, strategic and organizational factors have been discussed as components or contingencies of the process that makes universities more entrepreneurial. Yet we miss an understanding of the contribution that internationalization, crucial strategy for university competitiveness, can provide to such process. Our study addresses this gap, by looking at the effect of university internationalization on students' progressive engagement in entrepreneurship. We do so by studying internationalization along each of the three university institutional missions (teaching, research and third mission). Based on multilevel analysis on a sample of 25,855 university students across 130 European universities, our findings indicate that university internationalization matters, and with different mechanisms along the three missions; in fact, the effect of internationalization is both direct and indirect as it increases students' human capital but also enhances the impact of traditional university support and training mechanisms in favor of students' entrepreneurship.