2015 | OriginalPaper | Buchkapitel
Studies in Individuality: Can Students, Teachers and Schools Be Determined from Children's Handwriting?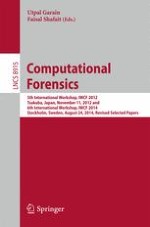 Erstes Kapitel lesen
Autoren: Sargur N. Srihari, Gang Chen, Zhen Xu, Lisa Hanson
Abstract
The individuality of handwriting is the principal underpinning of forensic handwriting examination. Studies of individuality have considered different statistical extremes to obtain handwriting samples. The first is a representative population drawn from a country. The second is a population of twins– so as to reflect genetic similarity. A third approach is to study whether teachers and schools have an influence on individuality. This paper presents preliminary results of individuality studies with data from children's handwriting, in grades 2–4, to identify the school, teacher and student. Considering the single handwritten word
and
we evaluate the performances of two methods, one based on feature values assigned by human questioned document examiners and the other based on automatically computing image features. Results are given for determining the school, the teacher and the student from images using restricted Boltzmann machines. Results of identifying the school with human assigned features and support vector machines are also given.