01.06.2015 | Original Paper | Ausgabe 6/2015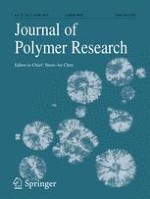 Studies on the ambient temperature crosslinking of latex films based on natural rubber grafted with poly(diacetone acrylamide) using DMTA
Zeitschrift:
Autoren:

Bencha Thongnuanchan, Rattanawadee Ninjan, Azizon Kaesaman, Charoen Nakason
Abstract
The concept of crosslinking natural rubber (NR) latex particles bearing diacetone acrylamide (DAAM) functional groups with a hydrazide crosslinker during film formation has been investigated using dynamic mechanical thermal analysis (DMTA). First, graft copolymers of NR and poly(diacetone acrylamide) prepared using 5 and 10 wt% of DAAM (abbreviated as NR-
g
-PDAAM5 and NR-
g
-PDAAM10, respectively) were synthesized. Then the dynamic mechanical properties of the cast NR-
g
-PDAAM latex films were measured. Two separate peaks were observed in tan δ versus temperature. The first peak appeared at −62 °C, which corresponds to glass transition of the NR phase. The second peak at −23 °C for NR-
g
-PDAAM5 (-18 °C for NR-
g
-PDAAM10) was tentatively attributed to the characteristics of NR-
g
-PDAAM phase. Furthermore, a shift to higher temperature of the tan δ peak corresponding to the NR-
g
-PDAAM phase was observed in the NR-
g
-PDAAM latex films, when adipic acid dihydrazide (ADH) was added prior to film casting. The added ADH increased the thermal energy required for molecular mobility in the NR-
g
-PDAAM phase of the cast film, providing evidence of crosslinking between the DAAM functional groups and the ADH during film formation.