2020 | OriginalPaper | Buchkapitel
Studies on the Fatigue Damage Behavior of Active Jet Engine Chevron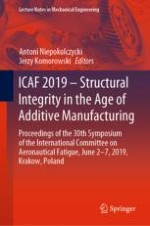 Erstes Kapitel lesen
Autoren: Bingfei Liu, Shangyang Jin, Shaozhe Dong, Zhenyu Feng
Abstract
The combination of theoretical research and finite element simulation is used in this work to study the fatigue damage behavior of active jet engine chevron. The main research contents are as follows:
Firstly, the thermo-mechanical constitutive model is developed to describe the behavior of shape memory alloys considering the damage. Based on the continuum damage mechanics theory, assumed that when the damage happens, the mass density, the elastic compliance tensor, the thermal expansion coefficient tensor, the specific heat, the specific entropy and the maximum phase change strain are all caused damage. The model is started from the second law of thermodynamics, a detailed procedure for the estimation of the stress-strain relationship is presented while the plastic strain caused by phase change is ignored. Secondly, numerical results of the stress-strain relationship for the shape memory alloys under different damage extent are discussed.
Finally, a finite element model of the jet engine chevron is established, the fatigue damage behaviors of active jet engine chevron are studied under the cycle loadings, and the tip deflection of the jet engine chevron when the fatigue damage happened is discussed.