2018 | OriginalPaper | Buchkapitel
Studies on the Production of Salt-Tolerant Alkaline Protease Isolated from
Proteus mirabilis

and Its Degradation of Hyper-Saline Soak Liquor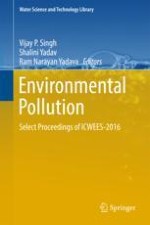 Erstes Kapitel lesen
Autoren: P. Maharaja, E. Nanthini, S. Swarnalatha, G. Sekaran
Verlag: Springer Singapore
Abstract
This study mainly focuses on the degradation of soluble biomolecules present in high salt containing (3–7%) Soak liquor (SL) discharge from the tanneries using the alkaline protease (AP) extracted from
Proteus mirabilis
(PM). The isolation of bacterial strains from SL was done and the screening for halophilic identification was carried out for the degradation of proteins at saline medium. The characterization of bacterial strain (PM) was carried out by using 16S-rDNA sequencing analysis. The bacterial strain (PM) growth rate was optimized with the effect of time, external carbon source, pH, temperature and metal ions. It was obtained time 48 h, pH = 7.0,
T
= 30 °C, addition of glucose as the external carbon source and the addition of Fe
2+
salts as optimum for the better growth rate of PM. The production of alkaline protease was carried out by using soak liquor as the substrate and the process parameters such as the effect of time, pH, and temperature were optimized. The activity and the stability of alkaline protease was done. The study on the degradation of proteins was carried out and the process parameters were optimized for the maximum conversion of proteins into amino acids. The instrumental analyses such as UV–visible, fluorescence, FT-IR spectroscopic studies, and TGA analysis confirmed the degradation of proteins into amino acid units present in the SL efficiently.